Winter. The 'down' season. The intensity of the summer wedding season seems to last longer every year.  But when the pace finally slows, I catch my breath and assess the past year.  One of the challenges of being a self-supporting artist/photographer is the uncertainty from year to year.  The landscape in this field constantly changes.  This is the time of year for reassessing, planning for success, and setting goals.
Success.  How do you measure that?  It's easy to fall prey to the most accessible and visible yardsticks of accomplishment: Facebook likes, published weddings, number of weddings, inquiries for next year, satisfied clients, bookkeeping reports, print sales….  It's hard not to grasp onto those quantifiable reassurances that confirm "I'm doing it right."  I get in that habit myself (with spreadsheets to prove it.) And I so appreciate when something comes along to knock that habit back onto the porch.
Here's one.  Yesterday I received a Christmas card from Josh and Lisa.  I photographed their wonderful wedding at Roche Harbor back in September. It came with a thank you note.  So thoughtful.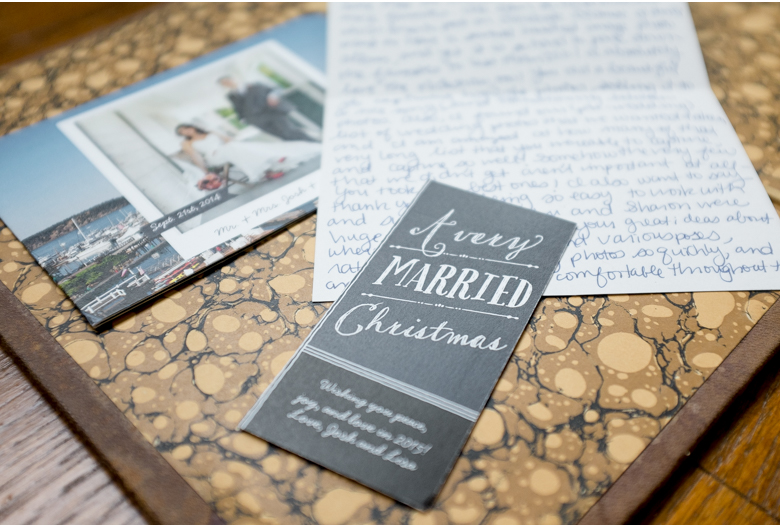 …..a few excerpts:
"Dear Clinton,
I know it's been several months now since we received our wedding photos from you, and I just want to circle back and thank you for taking amazing photos of our wedding day. Initially, I had a few favorites that stuck in my mind, but each time that we thumb through them, I find more favorites.  It's been so hard to decide which ones to post on Facebook because I don't want to have a several-hundred image photo album, yet it's so hard to pare down the favorites to less than 200!  I absolutely love the slideshow, too!  …. I also want to thank you for being so easy to work with and such a leader.  You and Sharon were huge allies for us with your great ideas about where to take photos…Thank you so much Clinton for a great job the day of our wedding and a fantastic product we will treasure our whole lives…."
Those kind words filled up the entire inside of the card and all of the back.  I'm truly happy they were thrilled with their pictures. One small mark on the 'success' scoreboard!  Success with a lower-case 's.'
I have been blessed to be involved in the lives of so many people like Lisa, my clients and their families, who exude love, who radiate a generosity of spirit and character, who provide an immediate example of what it looks like to choose and live a life of purpose and grace and grit. Even if it's only for a day (which often is the biggest day of their lives), I have the opportunity to witness lives well-lived. What a blessing to be given that experience. Over and over.
I don't have a column in my spreadsheets for that.
I have built a business where I'm constantly humbled and encouraged by the people who generously share their lives and let me create art in the process.  Because of them I feel very Successful.
Thank you to Lisa and all those who have shared your lives with me this past year and trusted me as your wedding photographer.